European fulfilment of oversized items – so called uglies – is complicated, expensive and there is literally no "one-size-fits-all" solution. Now that Direct to Consumer (DtC) sales channels by brands and wholesalers are gaining ground, the challenge to deliver bulky and heavy products cost-effectively and scalable across Europe gets more daunting than ever. 43% of companies shipping cross-border in Europe indicate significant challenges to do so (Intrastat, 2021). Whether you're selling patio furniture to end-customers, or air-compressors to independent professionals, the option "drop-box delivery" in the check-out just doesn't cut it.
An exploration of the oversized and underestimated.
Standardization
Let's face it: if you're in cross border e-commerce in Europe, you better sell products that weigh less than 31,5 kgs and are smaller than 65 x 45 x 30 cm. Anything over this size or weight becomes difficult to store and/or deliver.
The limitations have everything to do with standardization. Whether it's the size limitations of the parcel conveyor belt, or the weight limitation for lifting in European labor legislation, or the small bin size of an Autostore robot in fulfilment centers, there are certain restrictions that apply in favor of a standardized and efficient fulfilment process.
So what makes fulfilment of bulky items so different?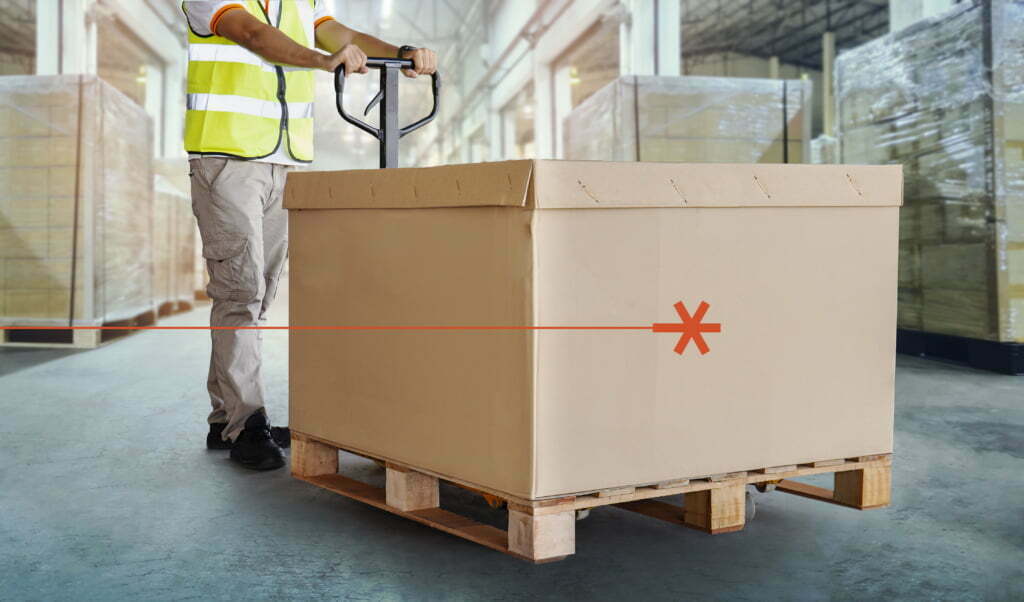 First and foremost, the cost to transport large items cross-border increases exponentially with distance, size and weight. In parcel delivery, stop-density is the name of the game: the higher the amount of stops in a driver's delivery round (so called "milk-run"), the more cost-efficient your delivery network is. But for large items there is no Pan-European network for home deliveries and pallet loads are too large to run an optimized home-delivery network for.
Efficient transporting of large items over long distances requires multiple unloadings and reloadings (or "cross-docking"). Each cross-docking has the potential to deteriorate the integrity of the packaging or damage the product. This is why some companies use dedicated delivery from A to B to deliver cross-border. This is not only a very expensive option, but it's also quite challenging to plan a time-window delivery at a family in Milan from a warehouse in Hamburg.
The same goes for storage and handling. Ask a typical BtC fulfilment center if they can store large items or pallets. 80% of them will refuse: they don't have the space, the racking, the equipment or the process to handle large items, or "it doesn't fit in the robot". They have standardized their process in favor of efficiency of operation. The multinational logistics companies that do specialize in large items and pallet storage and handling, are not set up for evening cutoffs or home delivery.
And then the packaging: in a local pallet network shippers can usually agree on a pallet-exchange service, in which the carrier takes back 1 empty pallet for every delivered full pallet. Exchanging pallets internationally however is a lot more challenging. Even more so when delivering to home addresses. Consumers don't want to be stuck with empty pallets, so they ask the driver to take it back on the spot. This is time consuming and the pallets usually do not fit the exchange criteria (so called one-way pallets).
Options for cross border delivery of large items
There are several ways to deliver large items cross border to end-customers:
Note that for parcels and pallets over 31,5 kgs the volume is just as important as the weight. Most transportation companies apply a volumetric-weight calculation to determine the price for a specific delivery. So even if your pallet may be relatively "light", its dimensions can push the price up considerably. See https://goodlogisticsgroup.com/guide-calculating-chargeable-weight-for-shipments-actual-weight-vs-volumetric-weight for some good insights into volumetric-weight calculation.
Prices for large item or pallet distribution 2 or 3 countries up can easily creep up to € 250 to € 400 per pallet. In most cases that's beyond the profit margin on the product, and therefore not a viable option in most cases. And it gets worse: driver shortages and fuel prices are inflating transportation cost even more.
Deliver "uglies" like a local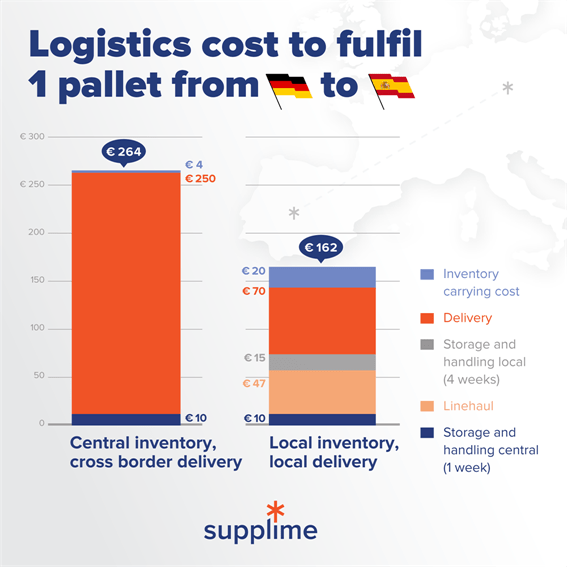 So in a nutshell: cross-border delivery of large items is not only expensive, it's also slow, has a high risk of damages, and limited track and trace options.
This is why local fulfilment is gaining ground as an alternative to long distance transportation. With local storage and distribution options, companies benefit from fast delivery, little to no cross-docking, low delivery cost due to local pricing conditions and modest storage and handling cost by the local fulfilment center.
Companies come to realize that the cost-, speed- and quality-benefits of having local inventory for specific products are outweighing the extra cost for holding inventory in multiple locations across the continent. For large items the total logistics cost (consolidated line haul + inventory carrying cost + storage and handling + distribution) for a palletized product can reduce 30-45% if stored locally, all costs considered (as visualized in the example of a large item worth € 750 in sales value).
Of course careful selection of the product category is required to reduce the risk of having to repatriate products when unsold, or rebalance stock between different countries. That is why depending on local fulfilment partners and carriers alone is not enough: you need to manage them centrally to trigger replenishments of that patio furniture at the right time, to rebalance air-compressors across the fulfilment centers or to arrange the same tail lift delivery experience for that gym-equipment in the Milanese suburb as in the center of Stockholm.
Talk to us, and we'll show you how we do it.
Uglies unite ! – at Supplime